We are currently shipping SHAPENBURN PLUS™ from the US to the EU/UK and are limiting quantities to one (1) bag of the 30, 2-count sample Packets (60 total), and one (1) bag of the 30 count, per order.

This bag contains 30 packets with 2 Capsules in each packet, making it PERFECT to hand out samples!
LOVE ❤️ THE WAY YOU FEEL

FAT-BURNING
MOOD & ENERGY FORMULA*

Naturopathic Doctor Formulates Thermogenic Fat-Burning Happy-Pill

SHAPENBURN PLUS™ is a synergistic formula of 14, fast-acting ingredients. This exclusive formula is designed to be a catalyst for noticeable weight loss. Expertly formulated to support elevated mood & energy, reduce appetite, decrease carbohydrate cravings, and increase metabolic efficiency to release stubborn stored fat and burn it for energy. Formulated by a Naturopathic Doctor, select clinically researched weight loss enhancers have been combined to help speed up the journey to your ideal weight.
EXPERTLY SELECTED KEY INGREDIENTS

THEOBROMINE* FROM BLACK CACAO POWDER & BETA PEA*
Theobromine, the active ingredient found in raw cacao plants and tea leaves, goes back over 3,000 years to the indigenous people of Mesopotamia. Theobromine was considered a "food of the gods," "theo" meaning god and "broma" meaning food.
SHAPENBURN PLUS™ contains two powerful mood and energy producing nootropics, Theobromine from Black Cacao Powder and Phenylethylamine (Beta PEA). Nootropics is another name for "smart pills," "brain boosters" or "memory-enhancing ingredients.
Theobromine, found in coffee beans and dark chocolate, help promote elevated mood, alertness, and increase both physical and mental performance. Many neurohackers love Beta PEA for its pick-me-up and mood enhancing qualities.
Caralluma Fimbriata*
CTFO's proprietary blend includes extracts from an edible cactus native to India called Caralluma Fimbriata. Caralluma Fimbriata was traditionally said to be used in India by tribesmen to suppress appetite and enhance endurance during long hunting trips. It was also reported to mitigate hunger during times of famine.
Reduced appetite supports decreased food and calorie intake while supporting a healthy metabolism and noticeable weight loss.
MORE THAN JUST A THEORY*
Here's what we found after conducting a 2-week trial. 92% of responders lost an average of 6.5 lbs. in the first 14-days and raved about elevated mood, increased energy, and a heightened state of focus. (See testimonials tab)
WHAT HAPPENS NEXT
In less than an hour, you should quickly feel SHAPENBURN PLUS™ going to work through the proven ingredients that have been studied to decrease hunger signals, giving you a "full" sensation while allowing you to take control of your appetite, instead of your appetite taking control of you.
SHAPENBURN PLUS™ begins to work quickly to increase your energy and metabolic rate while allowing your natural metabolism to stay in control. Along with a healthy lifestyle, these powerful ingredients work through these mechanisms that are crucial to you noticeably losing weight safely and effectively.
SHAPENBURN PLUS™ is like-no-other product available.
Now it's your turn! Get Started Today!
Suggested Usage
As a dietary supplement, adults take 1 or 2 capsules with 10 ounces of water, once or twice per day. Take on an empty stomach to receive more energy benefits. Results may be noticed in 45 minutes. Do not exceed 4 capsules per day.
*These statements have not been evaluated by the Food and Drug Administration. This product is not intended to diagnose, treat, cure or prevent any disease.
Synergistic Fast-Acting Ingredients*
Using only the finest ingredients from around the world. Manufactured in state-of-the-art facilities with quality and safety standards meeting all FDA and cGMP guidelines.
Caralluma Fimbriata*
Native to India and Africa, some studies say that it helps reduce hunger and helps people lose weight. It was well known to mitigate hunger during times of famine.
Theobromine*
Theobromine, from the seeds of the Theobroma cacao tree, is well known to promote feelings of physical strength and stamina, as well as mental acuity.
Black Cacao Powder*
Cacao has been found to help regulate metabolism while also increasing feelings of fullness. Cacao powder, generally associated with weight gain, may actually support weight loss.
Beta PEA (Phenylethylamine)*
Beta PEA is known as an influencer of the "happy hormones" within the human brain. Many neurohackers love Beta PEA for its pick-me-up and mood enhancing qualities.
Rhodiola*
Rhodiola supports increased mental capacity, reduced stress and fatigue, and an increase in mental performance.
Ginseng*
Ginseng has been well known for centuries to support energy production, adrenal function,longevity and a sense of overall well-being.
Citrus Aurantium*
Citrus aurantium has been known to aid in weight loss and support increased thermogenesis (how your bodies produces heat).
Natural Caffeine* (100 mg)
Caffeine promotes thermogenesis which helps suppress your appetite, supports your body's ability to burn calories, and increases resting metabolism to boost fat loss.
Guarana*
Guarana is a natural caffeine known to support the fight against fatigue and improve focus.
L-Theanine*
L-Theanine is known to help take the edge off of caffeine and promote a cognitive, mind-energizing performance stack.
Cinnamon*
Cinnamon has been known to boost your metabolism by allowing your body to better use your carbohydrate storage, so it doesn't turn into fat.
Black Pepper*
Black Pepper is used in the SHAPENBURN PLUS™ formula as a "carrier" to help get nutrients where they are needed by increasing blood flow and metabolic function.
Coconut Oil*
Coconut oil has been used as a source of "good fat," and a carrier for the other nutrients.
"You are what you absorb."
Trace Minerals*
Many metabolic dysfunctions may occur due to deficiencies in trace minerals.
*These statements have not been evaluated by the Food and Drug Administration. This product is not intended to diagnose, treat, cure or prevent any disease.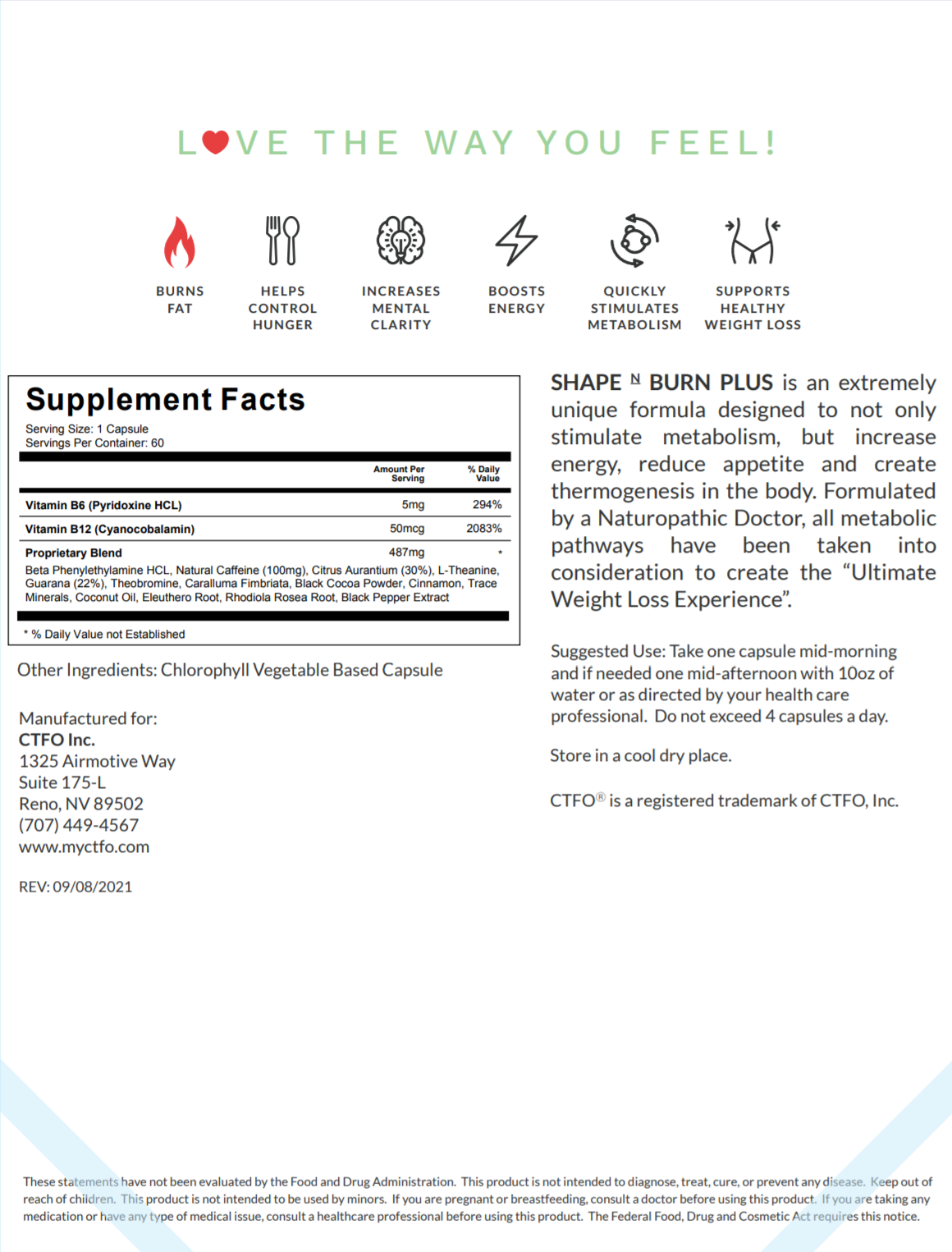 Real People. Real Stories.

I lost almost 11 lbs. in 15 days which is so good. I never felt any tachycardia as similar products available.
- Sylkia R
---
I lost 9 pounds in 14 days! I have more energy and feel GREAT every day!
- Lynette F.
---
I definitely benefited from the SHAPENBURN PLUS™. I lost 6 lbs. of stored fat in the midriff. (Ha.) Also, I got Extremely addicted to the CTFO ExtremeShake meal replacement.
- Lori G.
---
"I wasn't really expecting to lose inches, just fat (more importantly), and I did. My Body Fat dropped, and my Fat Mass reduced 2 lbs. Finally, I experienced a subtle energy lift / mental clarity throughout the day. As a side benefit, my tinnitus (ringing in ears) was resolved! BRAVO!"
- Phillip Z. III, DO, FAOASM, ATC
Functional & Regenerative Medicine
---
I have felt amazing on it! Tons of focus and energy, and I just seem to be accomplishing 10x what I normally do in a day!!! Even my sleep has improved immensely.
I'm only 10 days in and I have LOST 5 lbs.!
- Charity M.
---
I just wanted to email you before I forget. I'm a YES 🙌 on so many levels! Weight loss, drinking more water, not wanting to eat kids' food. LOL.
- Lindsay F.
---
The ability to burn fat, provide mental clarity and superb energy, as well as reduce appetites is highly effective. Thank you for introducing me to such a wonderful product.
- Cathy K
---
I believe this product is going to help so many people and I am looking forward to being a part of something Amazing!! Thank you so much for this opportunity, I am Grateful. ☺️
- Cynthia V.
---
I Absolutely ❤️ the SHAPENBURN PLUS™. It gave me LOTS of Energy and Mental Clarity. Also, it's definitely an appetite suppressant. Sometimes I forget to eat.
- Angela T.
---
I lost 5 lbs. without trying. The shape and burn did curb my appetite. It kept me from snacking, all on just one pill a day. I felt the mental clarity. It was wonderful. I am all out, how can I get more?
- Sherry A.
---
I am very HAPPY with my results from SHAPENBURN PLUS™. I started on September 2nd weighing 182.2 lbs. This Morning, 9/9/21, I weigh 178.8 lbs. 🙂🌿👍
- Jayne L.
---
I not only lost weight, but the mental alertness and clarity is amazing!
- Evelyn M.
---
Love the SHAPENBURN PLUS™! I lost weight (about 4 pounds), in a short time. It's amazing what even four pounds around your middle feels like. It set the pace for me, with a healthy mindset to stay the course.
- Mary F.
---
The energy I felt while taking SHAPENBURN PLUS™ was AMAZING!!! It really helped me get through my day with such mental clarity. I felt focused. The weight loss was an added benefit!
- Nicole R.
---
I have lost 6 pounds in 7 days with SHAPENBURN PLUS™. I love how I have more energy, better mental focus, and no more late-night snack cravings.
- Michael S.