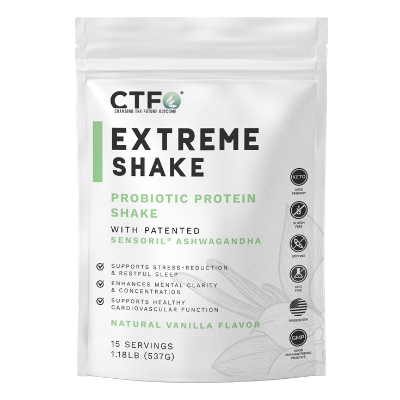 1.18 lbs. 15 servings, ExtremeShake™ with Sensoril® Ashwaganda
Keto-Friendly formula
Sensoril® Ashwagandha supports reduced belly fat
MCTs for energy and fat burn
Advanced probiotics and prebiotics for metabolism support
Reduces sugar cravings supporting healthy weight loss
Enhances metabolism of stored carbs and fat
Only 3 grams net carbs per serving
Gluten-Free, Soy-Free and GMO-Free


Ingredients: Undenatured and Diafiltered Whey Protein Concentrate, Ultrafiltered Milk Protein Isolate, Nonfat Dry Milk, Soluble Corn Fiber, Guar Gum, Acacia Gum, Xanthan Gum, Medium Chain Triglycerides (from Palm Kernel and Coconut Oil), Bacillus Subtilis (MB40 Strain), Ashwagandha Root and Leaf Extract (Sensoril®).

Other Ingredients: Natural Flavor, Coconut Oil Powder, Salt, Highly Purified Steviol Glycosides (Stevia Leaf Extract), Silical. Contains: Milk.